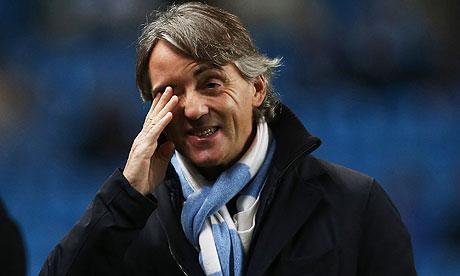 [Side note: While Heavy Metal Mouth is a music blog most of the time, as a lifelong Manchester City fan I couldn't let this moment pass without my own thoughts, so here goes my once-off football post.]
Exactly one year to the day that Sergio Aguero scored that now legendary title winning goal, Roberto Mancini has been sacked as Manchester City manager. The Italian, who also delivered the FA Cup for City in 2011, was confirmed as gone around half past ten this evening following days of speculation after the clubs collapse in the FA Cup final against Wigan on Saturday. What a difference 365 days can make- Alex Ferguson and the red half of Manchester toured the Premier League trophy across the city today while the Blues watched on in embarrassed silence, perhaps reminded of the days before Sheikh Mansour when this was an all too regular occurrence.
As a Manchester City fan myself, I feel the pain and suffering of my fellow Blues following a season filled with bitter disappointments and second place finishes, but I also ask if it was truly necessary to rid ourselves of the man who made us champions just a short while ago. The answer, for me at least, is a firm no. How quickly we all forget the 35 year trophy drought that plagued this club for decades was ended by the same man who today has been hurriedly pushed away by the club and had fans who celebrated him last season turn their backs as though it never happened in the first place. On the legacy of 13th May 2012 alone, surely Mancini has bought himself time to make amends?
That is not to say it hasn't been an underwhelming season. Second by such a large margin in the Premiership is unacceptable and for the most part is the result of silly draws and losses to clubs lower down the table than ourselves, while the Champions League was nothing short of humbling, however the extremely tough nature of our group must be taken into account with both qualifying teams reaching the semi-final and final in Real Madrid and Dortmund respectively. Underwhelming, yes. Disappointing, yes. Disastrous? No. Targets may not have been met, as the official club statement points out, but we are still building an empire here and it will take longer than a couple of years to perfect it.
As hard as it is to look across the city at the moment, United must be taken as an example of how to succeed long term in football. Stability is a key factor and this has been proven time and time again by Alex Ferguson, who leaves the club next week as the finest manager of all time in the game for my money. United's dominance is down to the stability, unity and togetherness that Ferguson instilled since day one, building for the future and thinking bigger than right here, right now.
It's also been proven by Chelsea that changing managers every time something goes wrong is a recipe for disaster, and their outrageous managerial policy is no doubt the reason that they are contesting for a Champions League place this year rather than the title itself. The sacking of Mancini sets a precedent I don't like, and the last thing we need is to follow in the footsteps of Roman Abramovich, a man who treats his football club like his own personal plaything rather than an organisation that affects hundreds of thousands of fans around the world.
So who comes in now? The bookmakers say Manuel Pellegrini, former Real Madrid and current Malaga coach, yet I fail to see how his credentials outdo Mancini's. Perhaps there's something I'm not aware of regarding the Chilean, but for the life of me I don't get the hype. Pellegrini will wants his own players, his own system and his own staff at the club and that's means one thing- rebuilding. Now we start all over again and try to build a new squad with a new style of play under a new manager and the results are bound to be slow if they are even successful at all.
Outside Pellegrini, I can't see many first rate choices that would serve to comfort me at this moment in time aside from the Special One who is heading back to Stamford Bridge if reports are to be believed anyhow, presenting an entirely new and dangerous challenge for the 2013-14 season also. If somehow Mansour was able to pull the masterstroke of landing Jose Mourinho then at least I could see a way forward, a plan of some sort, and a great deal of hope for next season, but it's highly unlikely and the probability is that we will be presented a new coach with the more or less the same level ability of ability as the one who just left.
It used to be the way that City would take a step forward and two back, and for this the fans have long suffered. But all of that seemed to end last season when that magical moment lit up the Etihad and we became Champions on that glorious day. One year on, and we have most certainly taken a terrible step back.