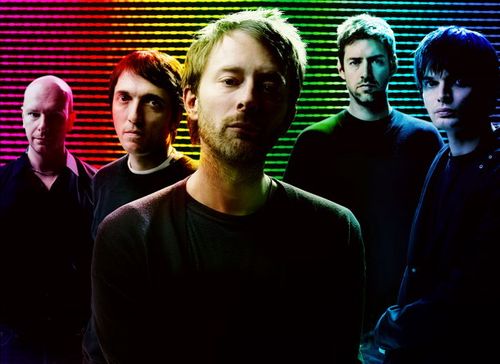 It seems to be a badge of honour these days to mourn the death of modern music among the current generation of listeners who've convinced themselves that they'd rather have lived in the 60's, 70's or 90's (nobody wants to live in the 80's) for the sole purpose of immersing themselves in the music scene of that time be it the hippy, hard rock, or grunge style that was dominating the airwaves throughout their respective decades. Well I'm here to argue otherwise, and tell you that I'm proud to be a product of the times that have produced the following albums and acts since the millennium year.
From the turn of the century, we've been bestowed with many a musical talent. The likes of Radiohead, Blur and Oasis continued their already established success while we were introduced to some of the biggest names in the world today with acts such as The Arcade Fire, The Strokes and Arctic Monkeys beginning to dominate after their impressive arrivals on the world stage. Each year has produced a range of outstanding albums, so let's take a look at the very finest as we count down the Albums Of The Year 00-13.
2000: Kid A- Radiohead


In 1998, a documentary was released entitled Meeting People Is Easy that followed Radiohead on the road during their Angels & Demons tour in support of the universally acclaimed OK Computer in 1997. It exposed the mental and physical strain of a world tour in a way that had never been witnessed onscreen before- Frontman Thom Yorke suffered a complete mental breakdown as he struggled to deal with the band's newfound success and for a short time it seemed possible that we'd never hear from Radiohead again.
So how exactly would the band respond to an album that many have labelled since the greatest of all time? Well, if you're Radiohead, you just create another, only this time you completely reinvent your sound and simultaneously create and perfect and style of music that would be dominate the next century of music, right to the present day. A mind-blowing electronica masterpiece that began the century in style and has dominated it since.
Best Tracks: Everything In Its Right Place/Idioteque/Motion Picture Soundtrack
Honourable Mentions: The Marshall Mathers LP- Eminem, Agaetis Bryjun- Sigur Ros, We Have The Facts And We're Voting Yes- Death Cab For Cutie
The opening four song combination of ''One More Time'' to ''Harder, Better, Faster, Stronger'' that kicks off Discovery is as impressive a foursome you'll ever hear in music. With Thomas Bangalar and Guy Manuel de Homem-Christo's second album, the duo redefined dance music with their blend of disco, synth and house and they have remained kings of the genre since, despite their failure to replicate the sensational dance classic that is Discovery.
Best Tracks: Aerodynamic/Digital Love/Something About Us
Honourable Mentions: Is This It?- The Strokes, Amnesiac- Radiohead, Gorillaz- Gorillaz, Vespertine- Bjork
2002: Turn On The Bright Lights- Interpol
It's been a whole ten years since we were first introduced to Paul Banks, Daniel Kessler, Carlos D and Sam Fogarino on Turn On The Bright Lights but a decade later, it sounds just as relevant and innovative as it did back then. The release of Interpol's debut was met with universal praise, introducing a new generation to the sound of post-punk as sculpted by the likes of Joy Division and Echo & The Bunnymen. The fact is though, that Interpol are a far different band than most would have you believe to Joy Divison or any of their predecessors. To compare the two is futile and insulting to the NY four piece because Turn On The Bright Lights has become a classic in it's own right, one that stands alongside Closer, Ocean Rain or The Queen Is Dead and in my opinion even surpasses them.
The beauty of Interpol's work and the reason they've always been so enjoyable live is the apparent simplicity of their work, but the fact is it took real creative and technical genius to achieve something as epic and glorious as Turn On The Bright Lights. Ten years on and for my money there hasn't been a finer album since, and I'll be surprised if I'm not saying that again in another ten.
Best Tracks: Untitled/The New/Leif Erikson
Honourable Mentions: ( ) - Sigur Ros, Sea Change- Beck, Lifted Or The Story Is In The Soil Keep Your Ear To The Ground- Bright Eyes


2003: You Forgot It In People- Broken Social Scene
2003 was a year filled with impressive debuts- The Postal Service influenced a generation of synth pop dreamers with Give Up while Fever To Tell announced the arrival of The Yeah Yeah Yeah's punk pop in style. This was Broken Social Scene's second following Feel Good Lost, a mostly instrumental, post rock effort that is extremely enjoyable in it's own right, but You Forgot It In People felt like the true arrival of Canadian collective with it's flawless blend of indie rock and baroque pop.
Best Tracks: Anthems For A Seventeen Year Old Girl/Lover's Spit/I'm Still Your Fag
Honourable Mentions: Hail To The Thief- Radiohead, Give Up- The Postal Service, Fever To Tell- The Yeah Yeah Yeahs, The Earth Is Not A Cold Dead Place- Explosions In The Sky, Transaltanticism- Death Cab For Cutie

2004: Funeral- The Arcade Fire
Funeral was born out of the loss of several family members for The Arcade Fire in a short space of time- Win and William Butler lost their grandfather, Regine Chassange's grandmother passed away while Richard Parry's aunt also died. But out of the darkness came the light as these combined tragedies paved the way for an album that many proclaimed the best of the decade. There will never be another Funeral, despite the countless number of acts who've tried to imitate it since, because the sheer passion, heart-on-sleeve emotion that is captured so vividly within these ten tracks cannot be recreated. Funeral's message is one of triumph in unity, and it couldn't be more fitting for the Canadian nine piece, each of whom combine with a startling range of instruments (violin, viola, double bass, cello, xylophone, glockenspiel, French horn, hurdy-gurdy, mandolin, accordion and harp are all used) to create this tender masterpiece. A one of a kind, lightening in a bottle classic that will never be matched again.
Best Tracks: Neighbourhood #1 (Tunnels)/Wake Up/Rebellion (Lies)
Honourable Mentions: Talkie Walkie- Air, The Milk Eyed Mender- Joanna Newsom, Soviet Kitcsh- Regina Spektor
2005: Silent Alarm- Bloc Party
It was extremely difficult for me to ignore Conor Oberst's double release of I'm Wide Awake It's Morning/Digital Ash In A Digital Urn this year, but Silent Alarm just about pips it for the influential significance that is carried right through to this day from Bloc Party's debut record. The lyrical beauty of Kele Okerere, Russell Lissack's unique guitar skills and the outstanding rhythm section of Moakes and Tong resulted in a thrilling, mature, relevant and challenging album that examined modern youth in Britain. Perhaps the most striking thing about it all was how experienced Silent Alarm sounded- these four twenty something's sounded as though they'd been playing together for thirty years and they consciously combined the themes and sounds of past decades of classic British bands from The Cure and The Smiths to Radiohead and Blur while adding themselves to the legendary line up with this instantly classic debut.
Best Tracks: Like Eating Glass/This Modern Love/So Here We Are
Honourable Mentions: I'm Wide Awake It's Morning/Digital Ash In A Digital Urn- Bright Eyes, Late Registration- Kanye West, Has A Good Home- Final Fantasy, Akron/Family- Akron/Family
2006: Whatever People Say I Am That's What I'm Not- Arctic Monkeys
While Bloc Party were following in the footsteps of bands such as Radiohead and U2 with their penchant for intelligent indie rock, Arctic Monkeys were recreating an entirely different sound with their brand of thumping garage rock as they followed in the footsteps of Oasis and The Stone Roses. Whatever People Say I Am... was a flawlessly skilful debut bursting with unapologetic attitude, and if you even thought for a second that this was style over substance, listen to Alex Turner's brutally honest, often hilarious lyrical wordplay on tracks such as ''A Certain Romance'' and ''Riot Van'' which showcased the Yorkshireman's wry intellect. And it all sounded so very effortless.
Best Tracks: The View From The Afternoon/When The Sun Goes Down/A Certain Romance
Honourable Mentions: Ys- Joanna Newsom, Yellow House- Grizzly Bear, The Eraser- Thom Yorke

2007: For Emma Forever Ago- Bon Iver
We all know the story: heartbroken from a failed relationship, frustrated by lack of success and the break up of failed indie act DeYarmond Edison, and suffering with a severe bout of mononucleosis, Justin Vernon retreated to his father's cabin in the Wisconsin woods to ''hibernate'' for winter. The result was this spellbinding, majestic piece of acoustic music that encompassed the burning emotions (disappointment, regret, guilt, heartache, vulnerability, loss, anger, insecurity, grief) inside the songwriter all within 39 minutes. It has been said that the cabin plays as much an instrument throughout For Emma as guitar, bass or drums and to a large extent this is true; the listener is pulled inside Vernon's world in this cold, creaky space for these 9 songs, swallowed whole into the absorbing soundscape that is created by the atmospheric setting.
But as with all great albums, the real brilliance must lie in the songwriting and Vernon is abundantly gifted in this respect, exposing himself in vivid detail, word painting images of a broken man with nothing left to lose. Vernon once described the making of the album as ''the most cathartic experience'' of his life, but the real achievement of For Emma is how real it sounds to the listener- you'll feel the pain and suffering of Vernon melting away with his every word and for anyone who knows the feeling, it will resonate deeply for a long time.
Best Tracks: Flume/Skinny Love/The Wolves (Act I & II)
Honourable Mentions: Cryptograms- Deerhunter, Beyond- Dinosaur Jr, From Here We Go Sublime-The Field, In Rainbows- Radiohead, All Of A Sudden I Miss Everyone, Love Is Simple- Akron/Family

2008: Crystal Castles- Crystal Castles
2008 was an excellent year for electronic music with the debut of Atlas Sound and Bloc Party's daring third record Intimacy, but the real success story of the year came from Alice Glass and Ethan Kath, an unlikely duo that created the innovative dance-punk styling's of Crystal Castles on their eponymous debut. Glass' distorted vocal and minimal lyrics combined with Kath's experimental hardcore production works to perfection and has continued to since with the release of the Canadian acts finest album last year in (III).
Best Tracks: Alice Practice/Crimewave/Courtship Dating
Honourable Mentions: Let The Blind Lead Those Who Can See But Cannot Feel- Atlas Sound, 808's & Heartbreak- Kanye West, Intimacy- Bloc Party, The Seldom Seen Kid- Elbow

2009: xx- The xx
It was back in 2009 that we were first introduced to the sensual sounds of The xx and it's not hard to see why xx was such a critical and commercial success; in an age of increasingly complex and layered soundscapes, the simplistic yet evocative sound of the London trio's debut was a refreshing, intriguing change of pace. Their back to basics ethic consisted of a minimal guitar and bass set up backed by the synths and beats of Jamie xx, as Romy Madley Croft and Oliver Sim crooned their way through a series of sexually charged, romantic tunes. The flawless beauty of these 11 tracks was a captivating examination of love, sex and relationships that the group will never quite be able to replicate again.
Best Tracks: Heart Skipped A Beat/Infinity/Stars
Honourable Mentions: Veckatimest- Grizzly Bear,Two Suns- Bat For Lashes, Its Blitz!- The Yeah Yeah Yeahs, Bastard- Tyler The Creator, I Had The Blues But I Shook Them Loose- Bombay Bicycle Club

2010: My Beautiful Dark Twisted Fantasy- Kanye West
A largely lukewarm reception from die-hard Kanye fans followed the release of 808's & Heartbreak in 2008, but as you can see from my picks above, I was a big fan. The polarizing fourth effort experimented heavily with auto tune and ignored Ye's hip-hop roots in favour of a daring electro approach that was negatively received for the most part.
This time around, West was in no mood for experimentation, retreating back to his sample heavy style with glorious success, creating one of the finest rap records of the century in My Beautiful Dark Twisted Fantasy and in my opinion, the best of his career so far. Collaborating with an excellent range of superstars from Rihanna and Nicki Minaj to RZA and Raekwon, Ye made great use of the talent at his disposal while remaining the undoubted centrepiece of the show. Highlights included ''Runaway'', a 9 minute masterful call back to 808's, opener ''Dark Fantasy'' and the shimmering beauty of ''All Of The Lights'' led by Rihanna's outstanding vocal. With West's sixth studio album due out this year, it's hard not to imagine another classic being produced by the icon judging from this material.
Best Tracks: All Of The Lights/Monster/Runaway
Honourable Mentions: CMYK/The Bells Sketch/Klavierwerke EP- James Blake, The Suburbs- The Arcade Fire, Earl- Earl Sweatshirt


2011: James Blake- James Blake
James Blake has never been a straightforward producer like his electronic contemporaries. Unlike say, SBTRKT, Blake falls heavily into the singer songwriter category, closer in many respects to acts such as Grizzly Bear or Bon Iver due to his minimal emotive style. The young Briton first gained attention back in 2010 with a series of EP releases, among them
The Bells Sketch, CMYK
and
Klavierwerke
, and while these were exciting, mostly instrumental efforts that marked the arrival of a young talent amongst a sea of similarly minded electro musicians, it was
James Blake
that set the Londoner far beyond the rest. The key difference here was Blake's distinctive, heartfelt vocal that dominated each track and breathed new life into his promising dub beats, creating a modern electronic classic and announcing Blake's true arrival in some style.
Best Tracks: The Wilhelm Scream/I Never Learnt To Share/Lindisfarne
Honourable Mentions: Section. 80- Kendrick Lamar, SBTRKT- SBTRKT

2012: good kid, m.A.A.d city- Kendrick Lamar
Lamar has been touted in recent times as the next Kanye West, Jay-Z or even Biggie Smalls and it's not hard to see why. Following the release of his acclaimed debut mixtape
Section .80,
Kendrick dropped
good kid, m.A.A.d city
in late October to near universal critical approval and rave reviews which compared the Compton rapper to the late Notorious B.I.G for his storytelling style and lyrical ability.
A concept album laden with atmospheric beats and low key production,
good kid, m.A.A.d city
has been rightfully ranked in several end-of-year best lists in 2012 but I see this as one album destined to stand the test of time and gain classic status as soon as it's old enough.
Best Tracks: Bitch Don't Kill My Vibe/The Art Of Peer Pressure/m.A.A.d city
Honourable Mentions: channel ORANGE- Frank Ocean, Shrines- Purity Ring, Visions- Grimes, Crystal Castles III- Crystal Castles