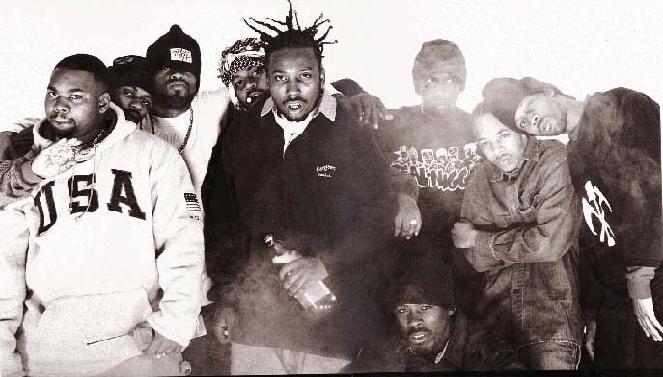 As the likes of Wu-Tang Clan and Mobb Deep get ready to drop new material on us in 2014, while Nas celebrates his rise to the throne two decades back with the reissue of Illmatic XX, there's no better time to look back and reflect upon the golden age of rap by counting down the greatest hip-hop albums of that decade, and therefore, some of the greatest of all time.
10. Lifestylez Ov Da Poor & Dangerous- Big L (March 28, 1995)
You're nobody till somebody kills you; Harlem rapper Big L received average reviews when he dropped his debut album in 1995 but nowadays, following his murder in 1999, Lifestylez is heralded as a 90's hip-hop classic, its rightful status in my opinion. L is a lyrical maestro for sure and he flows with surprisingly accomplished vocabulary over sampled production and typical 90's beats, but the standout aspect of Big L's only lifetime release is the very real, visceral nature of the street tales that the New York native spits. A truly underrated classic.
9. Doggystyle- Snoop Doggy Dogg (November 23, 1993)
The irresistible funk and party grooves that oozed out of Snoop Dogg's debut album are what make it such a classic. Following on from Dr. Dre's 1992 classic The Chronic (which you may also find on this list), Snoop and his mentor produced a record that was a relief from the troubled vibes of gang wars and poverty that dominated rap's subject matter at the time; Snoop simply wanted to get high and flow his ryhmes over Dre's delighfully playful production, and he flowed quite majestically it must be said.
8. Me Against The World- Tupac (March 14, 1995)
It'll probably upset the Tupac faithful that All Eyez On Me didn't make it here, but for my money, Me Against The World was the late rap star's greatest work. Without the (forgive me) filler of Eyez daunting double album tracklist, Me Against The World was Pac at his most commercial and accessible, with classic rap ballads like ''So Many Tears'' and ''Dear Mama'' being remembered still among his greatest tracks, while Pac's fear and anger toward gangland troubles was dealt with in ''If I Die 2Nite'' and ''Death Around The Corner''. This was the moment when Tupac welcomed his demons in, confronted his darkest issues and told the world of his deepest feelings in an emotional magnum opus.
7. The Chronic- Dr. Dre (December 15, 1992)
Before Snoop's debut album in '93, he was introduced to the world by Dr. Dre on The Chronic, a landmark recording that went on to significantly shape the landscape of hip-hop throughout the decade. I've always thought it was strange not to credit Snoop alongside Dre as the album artist- he was featured on 13 of the album's 16 tracks, and made Dre look silly with his rhyming skills, but take nothing away from the former NWA man- this is one of the best produced albums in hip-hop history with its innovative, ground breaking ''G-Funk'' sound.
6. Only Built 4 Cuban Linx... - Raekwon (Feat. Ghostface Killah) (August 1, 1995)
The defining product of Wu Tang Clan's solo output (alongside the next album down this list) came from Raekwon and Ghostface Killah with the majestic Cuban Linx, an album so rich in story and narrative that it may have been a novel or motion picture in another world. Under their own self appointed monikers, Rae and Ghost set out on a journey to fame and fortune in drug crime game, leading them to quick riches, shady characters, betrayal, revenge and ultimately redemption in the greatest rap story ever told. It's cinematic scope is complimented to perfection by RZA's best ever production, and Rae and Ghost's effortless yet almost impossible flow as they bounce of each other like no hip-hop pairing before.
5. Liquid Swords- GZA (November 7, 1995)
Some of the greatest sounds of 1990's hip-hop came from Wu Tang production genius RZA's basement, and just like Cuban Linx before it, Liquid Swords owes a huge debt to the majestic backing provided for GZA's accomplished raps. Here the Wu get more contemplative and deeper than ever before; Raekwon and Ghost were searching for fame and fortune, GZA was looking for deeper meaning, encorporating philosophical rhymes over a darkened, surreal backdrop that took you deep into the Kung Fu nightmare that Wu Tang's two original founders wanted you to lose yourself inside.

4. Ready To Die- The Notorious B.I.G (September 13, 1994)

When it came to the inevitable Biggy vs. Pac debate that hip-hop heads love to rage over, I was always a Christopher Wallace man, but then again, I don't believe for a second that they were the two greatest rapper of all time either. My reasons for picking BIG are similar to most- exceptional wordplay and delivery, rich storytelling and compelling lyrics, all of which dominate Ready To Die, the ultimate rag to riches hip-hop fairytale. Ready To Die was more accessible than most hip-hop of the decade- rather than the bleak, minimal production that featured in most classics at the time, Biggy was backed by cathcy, almost pop like beats on ''Juicy'', ''Big Poppa'' and ''One More Chance'', all of which led to this being one of the most successful rap albums ever and brought BIG the success he craved and the legacy he immediately deserved.

3. The Infamous- Mobb Deep (April 25, 1995)

The sheer intensity of the blistering, unforgiving 66 minutes of this Queensbridge duo's second album is what makes it such an unforgettable masterpiece; this is the very real sound of growing up in the New York projects and fighting for survival in the game, captured inside a bottle comprised of raw beats, haunting soundscapes, outstanding visual lyricism, hyper agressive flow and true grit atitude. Quite simply, one of the most perfect rap albums ever created.

2. Enter The Wu Tang: 36 Chambers- Wu Tang Clan (November 9, 1993)

How can rap be dead if Wu Tang is forever? 36 Chambers was the start of a movement that changed rap and introduced some of its most greatest, and certainly most memorable stars- from the seemingly possessed, eccentric spirit of Ol' Dirty Bastard to the laid back, stoner rap of Method Man, as well as Inspectah Deck's lyrical genius and the aforementioned skills of RZA, GZA, Ghostface Killah and Raekwon, not to mention U-God, Masta Killa, Cappandonna and the Wu's countless other associates, Enter The Wu Tang brought you nothing but raw skill in buckets. The overload of talent on the mic throughout 36 Chambers is enough to overwhelm anyone with even a slight interest in hip-hop music, and it's no surprise that afterwards the Clan went on to craft some of the greatest rap albums of the decade and all time on their own, but there's just something about the spontaneous, instinctive genius on 36 Chambers, all caught inside a basement studio by 9 incredibly gifted individual performers, that makes this album so special and unique.
1. Illmatic- Nas (April 19, 1994)
The greatest of them all, in my humble opinion. Nas shook the hip-hop world with Illmatic, the most vivid picture of the streets ever painted by a music artist. As the man himself said in 2012:
''It wasn't about being a rap star; it was about anything other than... [it] needed to be documented and my life needed to be told."
And so he told us stories about gang violence, drug crime, jail time, depression and savage poverty, through ridiculously complex, intricate rhymes and flawless lyricism delivered with unprecedented vocal skill. Nas was obsessed with integrity, which meant remaining loyal and true to his roots while creating a powerful, brutally honest picture of his upbringing and surroundings, and his strive for artistic perfection was a vital ingredient in making this the most complete, unabridged product in rap history.
Nas has spent the rest of his career trying with mixed results to follow Illmatic, but the truth is there's no way to replicate that kind of glory; it was a product of its time, and a moment of utter perfection.
Any major fans of the genre will probably want to murder me after reading this list because no two will ever be the same, so before I go I better drop in a list of honourable mentions that came close but didn't quite make the list. Peace!
2Pac- All Eyez On Me
2Pac- The Don Killuminati
A Tribe Called Quest- Midnight Maruaders
Eminem- The Slim Shady LP
Ice Cube- AmeriKKKa's Most Wanted
Public Enemy- Fear Of A Black Planet