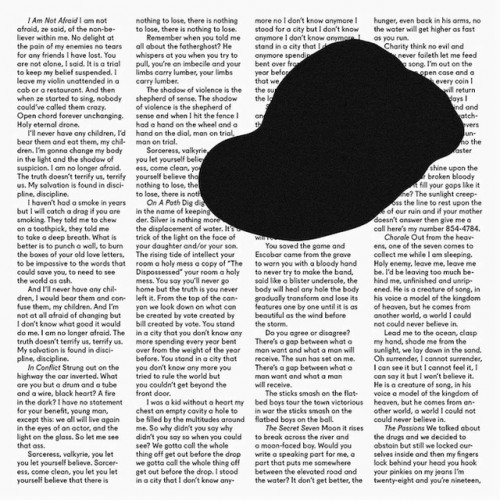 Owen Pallett is a name that tends to be overlooked when we talk about The Arcade Fire, but the quiet Montreal native's impressive solo output as well as his Oscar nomination alongside Win Butler for Best Score this year would suggest that Pallett is far more than a background character, and in fact a major player within one of greatest band's of this generation. The melodic, expressive string pieces that make up Pallett's first three albums seem to be derived from his criminally unrated orchestral work for the band, and so it follows that Pallett's solo work has so far been a quiet but undeniably quality affair, and one which has drawn critical approval if not commercial success.
Having dropped the Final Fantasy moniker for Heartland in 2010, Pallett is back under his own name for
In Conflict
, his fourth record and one which interestingly employs the talents of Brian Eno on synth and guitar, suggesting a possible stylistic change for the Canadian, who usually can;t be found without a violin by his side. ''I Am Not Afraid'' opens like standard Pallett but sure enough breaks off for a dreamy synth interlude before linking back up with the rest of the song in a strong intro, while the title track confirms Pallett will be substituting his strings for synths in major parts of the album as warm electronic textures wrap themselves around ''In Conflict'', creating a weird dancey vibe as the track develops with great results. Early highlights such as this are aplenty, with ''Song For Five & Six'' showcasing laser like synths that bury Pallett's vocal underneath a set of sci-fi sounds recalling a male Grimes more than just a little bit.
There are still plenty of string arrangements to go around on tracks like ''On A Path'' which are backed solely by a drum machine and Pallett's violin, while ''The Passions'' is a somber affair that slows the midsection down in quite a lovely manner, stuck between ''The Secret Seven'' and ''The Sky Behind The Flag'', two pieces which make a point of building themselves with purpose before resolving without the expected climax, although their respective journeys are satisfying enough anyway. Brief string intersection ''→, Part 1'' introduces us to the closing chapters of
In Conflict
which kick off with ''The Riverbed'', a drum heavy, louder side to the album that almost sounds like the answer to the aforementioned climax that ''Seven'' and ''Sky'' were searching for, before major highlight ''Infernal Fantasy'' interupts the tracklist with a glorious, chaotic electronic mess that threatens to implode on itself in an unexpected turn of events which has Eno written all over it. Following ''Fantasy'' we're brought to a gentle close by ''Soldier's Rock'' before ''→, Part 2'' ends
In Conflict
fittingly with another string arrangement shrouded in synth.
And so
In Conflict
showcases its songwriter modestly progressing in an intriguing new direction with precision and confidence. In typical style this is a humble offering from Pallett but throughout
In Conflict
are glimses that hint at a more ambitious artist, one who is capable of expanding on an already solid catalogue. It would be fair to say that
In Conflict
marks the best solo work of Owen Pallett's career (perhaps challenged by debut
Has A Good Home
under the FF moniker), but you get the feeling that the always reliable and eternally reserved Pallett potentially has his best work ahead of him yet, a suspicion confirmed by this collection of electro tinged tracks which showcase a skillful development in sound.
8.1